Classes Cost $7 per child 12 Months and Up
Location: All Saints Lutheran Church 8100 Belden BLVD, Cottage Grove, MN 55016
Reach Laura @ 847-775-9138
-Registration Required to Reserve your space. Please pay at time of registration.
Class fee is $7 per child. Pay per class or buy a punch card for your family that is good for all classes.
You can pay with Venmo, or purchase via PayPal on the links below.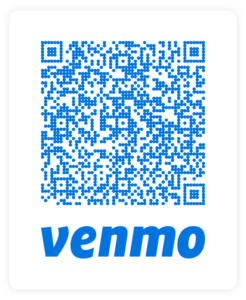 @LorlaJo or @MissLauraMusicMovement -Scan above for Venmo Payment. You will be prompted to enter the amount you owe, so remember that, or use the PayPal links below.
Below are PayPal links
20 PUNCH CARD $119 3 Classes free with the 20 Punch Card 
10 PUNCH CARD $63 1 Class free with the 10 Punch Card
 1 Class $7    2 Classes $14 
3 Classes $21    4 Classes $28 
5 Classes $35    6 Classes $42 
7 Classes $49    8 Classes $56 
9 Classes $63    10 Classes $70 
 Miss Laura's Programs are a fun way to learn, explore, sing & dance your cares away, meet other moms (and dads) and ignite imagination. Each session is planned with lots of creativity, motion and movement. And while the classes are super fun for both kids & adults, each activity is carefully planned to benefit your child's development. I believe in a holistic approach that enhances your child through Creative, Emotional, Physical, Musical & Social play. Seeds are planted for future success in math, science, languages and creative arts… shhhh, don't tell anyone it's so good for you!
My integrated curriculum enhances…
Brain Development  –  Listening Skills  –  Communication Skills  –  Fine & Gross Motor Development  –  Verbal / Language Skills  –  Reading Comprehension  –  Verbal Memory  –  Vocabulary  –  Social Skills  –  Family Bonding  –  Early Writing
Read More Here about Miss Laura