Miss Laura is Military Friendly.
Is your child a Military Brat? Past or Present?
Come to Miss Laura's classes and let her know and she will honor your child(ren) with her 'Military Child, That's Me!' T-shirt w/super-hero cape on the back!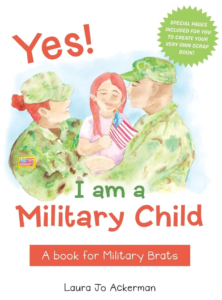 You will also receive her brand new album 'Miss Laura and the Military Brats'. Her songs are original and reflect on experiences she and her family had while living a military lifestyle.
We've all heard the term "military brat" before. It pertains to those children who grew up in military families. "Brats" wear the name like a badge of honor, often because of the moves, stressors and cultural experiences that make them more resilient than their civilian counterparts.
When Miss Laura started writing music and books for military story time kids (while her husband served as a Naval Oral Surgeon on NAVSTA Great Lakes), she asked the parents what they thought about their kids being called 'Brats'. Her audience was tots to kindergarten age, and the parents agreed that 'Brat' was a term that didn't really relate at those ages. So 'Military Child' came to life in Laura's music, stories, and books. 'Yes, I Am a Military Child' is not an attempt to draw away from being a "Brat", it's simply a 'warm-up' to the badge of honor of the title that connotes affection and respect.
This book is a sing-along to two of the songs on Miss Laura's special music CD 'Miss Laura & the Military Brats' available on YouTube, Amazon, etc. Scan below to listen. Check out Miss Laura's special 'Military Child, That's Me!' t-shirts, with Superhero capes specially sewn on the back. Scan below to purchase!
Thank you so much for being a part of the magic that is all things 'Miss Laura'. I hope you really come to love the illustrations painted by Dominique, as she is a true Military Brat. Thank you for buying this book and have a ton-of-fun filling in the special pages in the back!
-Miss Laura
Update: I have submitted a revision to my book, as the illustrator, Dominique Art Instructor , and I saw some things we would like changed. If you haven't ordered yet, I'll have an update in the next week on the book w/o the part that says I'm a 'military brat'. If anything I'm a 'Phillips 66 brat', a 'refinery brat', and a 'Northwest Airlines brat', but never a 'military brat'. Many of the kids I grew up with here in CG were brats, but not me. The revision will also include links to my music album and my t-shirts. … Coming very soon! Thanks so much for all your love and support this week! It's been crazy for sure. 
-Well, my book is out! Who hoo! (…though somehow I missed the part where they wrote that I was a military brat. Oh geeze! I'll have to fix that somehow.) Anyway, please take a look! It's available now! Yes! I Am a Military Child: A Book for Military Brats
Click Here for the order link
The album is available for download on Apple Music, Amazon Music, Spotify and more!
"Miss Laura and the Military Brats"
Laura Jo Ackerman has created a delightful music album about Military Brats for Military Brats. Brats are expected to move a lot, make new friends, start new schools and readjust to new surrounding during the time their parent(s) serve in the United States Military. This is an album that celebrates the excitement of the changes, it relates to feelings and emotions that occur and encourages families to stick together through thick and thin. Laura is a retired Navy wife who raised two boys during her husband's service. She is also a teacher who dedicated her time to the young families on bases in Japan & Great Lakes Illinois. Support comes in many different ways for families and Laura offered family friendly adventures and experiences in music, fitness and literacy. Laura's songs are all original and written by her.